Web-based Edtech platform for language learning
The platform offers 4 languages courses crafted to improve the vocabulary and grammar skills of students with complex use of gamification and automatization to boost the outcomes up to 20%.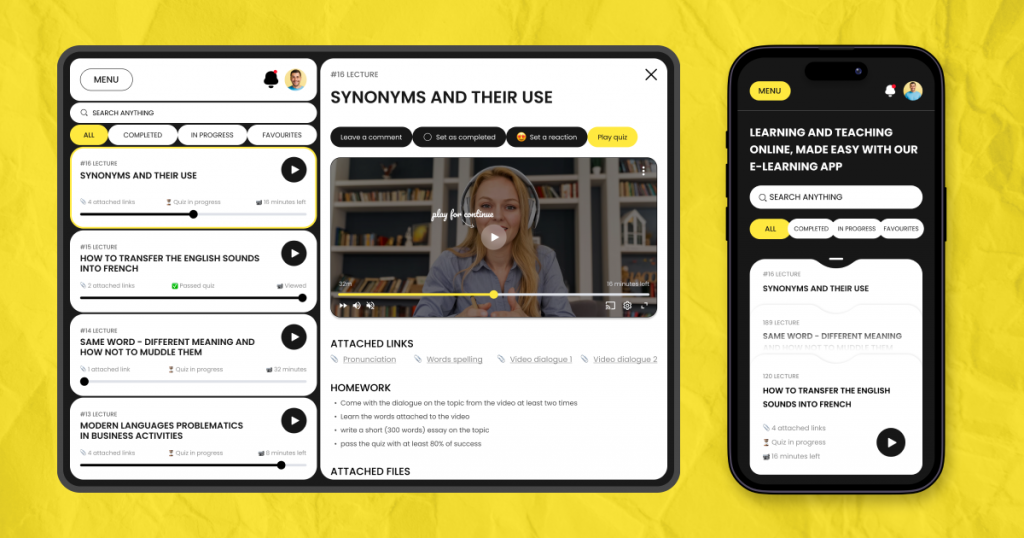 The customer's educational company works in the Canadian language environment which is complicated due to the simultaneous use of English and French in different provinces, resulting in certain inconveniences and misunderstandings. Aiming to overpass the situation, they started with the promotion of bilingualism and the spreading of accessible and effective educational courses distinctive from the competitors.
The customer required the platform for helping students to improve their ability to percept information faster. to overcome the existing competitors, the solution had to be both innovative and comfortable for every participant in the educational process. Making automated and highly effective processes was one of the objectives as well. The chosen approach had to transform the in-person learning experience into a 100% digital experience that can be accessed by students at a lower cost.
The ideation phase was necessary to find the proper solutions that match our user aspirations and additional all-around gamification for easier perception of information by users. To make the system stable and secure with high load abilities, blockchain features were taken as the priority.
The developed platform in full satisfies its primary goals as the complex digital transformation brought the renovated experience to language learning in live situations in bilingual communities. Comfortable both for students and teachers, the platform unifies their goals and intentions in a fast and comfortable way of learning.
less time to consume the same amount of content