Web platform for insurance company
The team dealt with the web development of a specialised platform for claims and maintenance issues settlement in the automotive industry.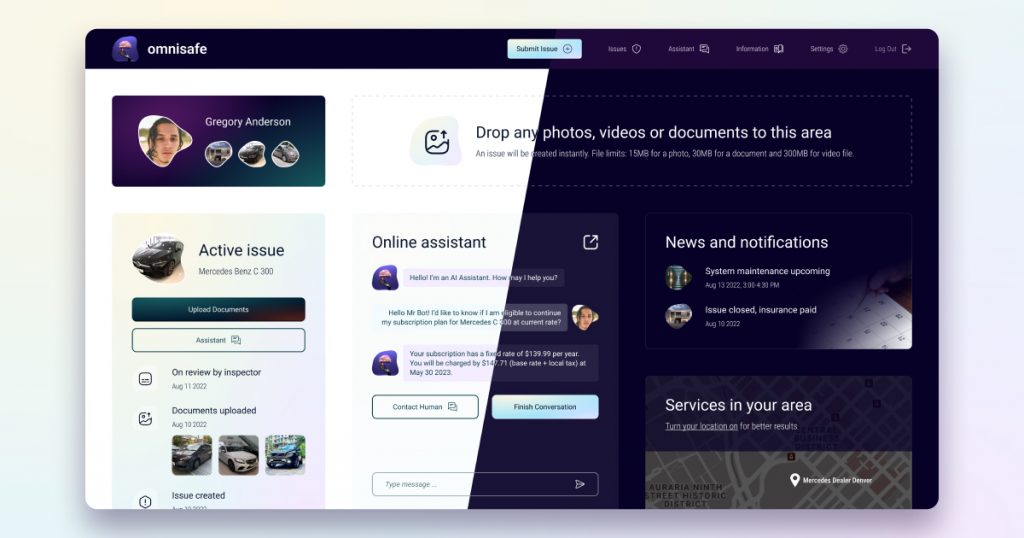 As far as the market of vehicles grows, especially talking about electric cars, the customer decided to start their business with in-vehicle services and products, including insurance. The designed system should be oriented primarily on the owners of electric cars which allows the possibility of direct incorporation of vehicle status reports into insurance claims. Automatisation has been placed the priority which led to 20% fewer manual processes and the number of interactions between the user and the insurer with a 60% decrease in related human factor mistakes appearance.
Today's claims journeys are fragmented, complex, and manual. Processing claims requires significant input from customers, insurers, repair-shop networks, and rental providers, and it often relies on incomplete data from involved parties. This was experienced and greatly disliked by the customer so they wished to change this approach with their customised system.
Creation of the differentiated customer experience required deep analysis and discovery of the market and the users using electric vehicles with data-driven business analysis.
The customer received the fully functional system for car insurance claim estimation and management. After a complex evaluation of the existing solutions within the market, the team moved to a data-driven risk-preventive approach to the development process requiring application of the AI-based algorithms and bots and the integration of APIs. Automated processing of filing standard reporting or any other documents to the insurance company or regulatory authorities allowed for reducing human factor errors rate and brought a higher level of security. NAIC Registry and similar APIs help the system to retrieve and store data on online systems for misconduct identification and other purposes and bring faster interaction and security.
less human-factor related issues