Saving and investment mobile app for teenagers
The platform ensures a secure way of managing personal funds and selecting a specific investment with the deliberate user experience achieving a retention rate of 80% in the first quarter.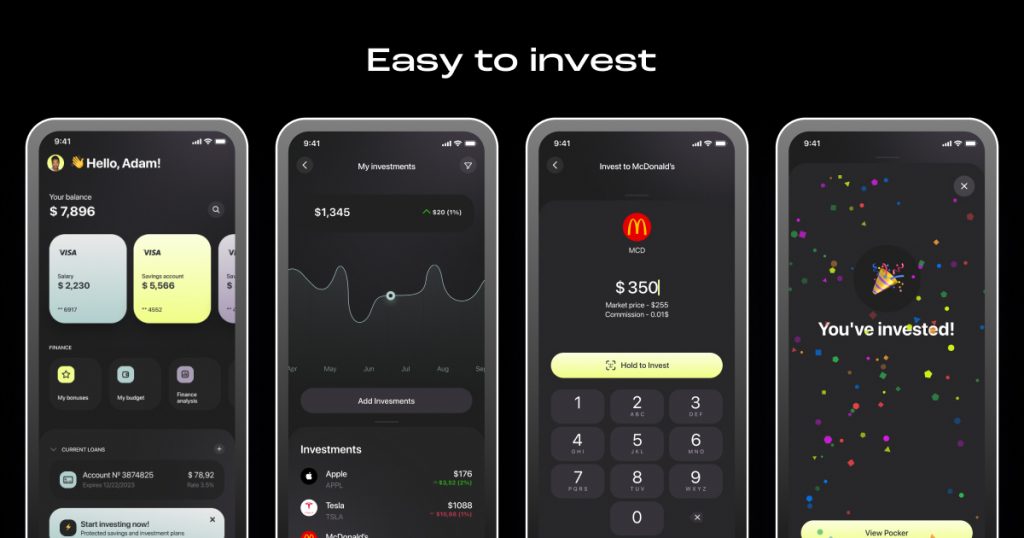 The client company is a commercial firm offering personal finance management services for broad audiences. With the need to scale the digital presence, they decided to create an application for a new group of users. Aside from this, their goal was to promote financial literacy among the young audience and satisfy enterprise social responsibilities.
The team aimed to develop an interactive but easy-to-use mobile savings management investments app to empower financial literacy and open stock market investing for teenagers. That is why the team applied the complex approach of UX designing while representing complicated things in simple charts, dashboards, pop-ups, and assistance notes. Data security was an additional concern as well.
We build the application with a scalable architecture that can handle high data loads, ensuring high performance and perfect data security based on the market research and ideation of the target audience we received from the customer with specific UX and vivid UI.
The development of an investing app has strong potential to be a profitable business as more and more people invest in the stock market and consider their investment opportunities. With our expertise on the critical points of building an investing app, the client received the great opportunity to become a player in the investment app marketplace and provide their users with customisable and vivid visuals. After making the dedicated approach to architecture buildup, the customer received the product, ready for further scaling and integration of supportive services. Taken measures on security assurance ensured the privacy-first approach starting from the design of the system, with the final outcome in the ways support is provided.
of users started to better understand their financial flows
retention rate in the first quarter
of users made their first investment through the app