B2B SaaS for budgeting and predictions
 The platform for management of companies' finance flows, making budgeting or predictions and sharing them with investors or colleagues.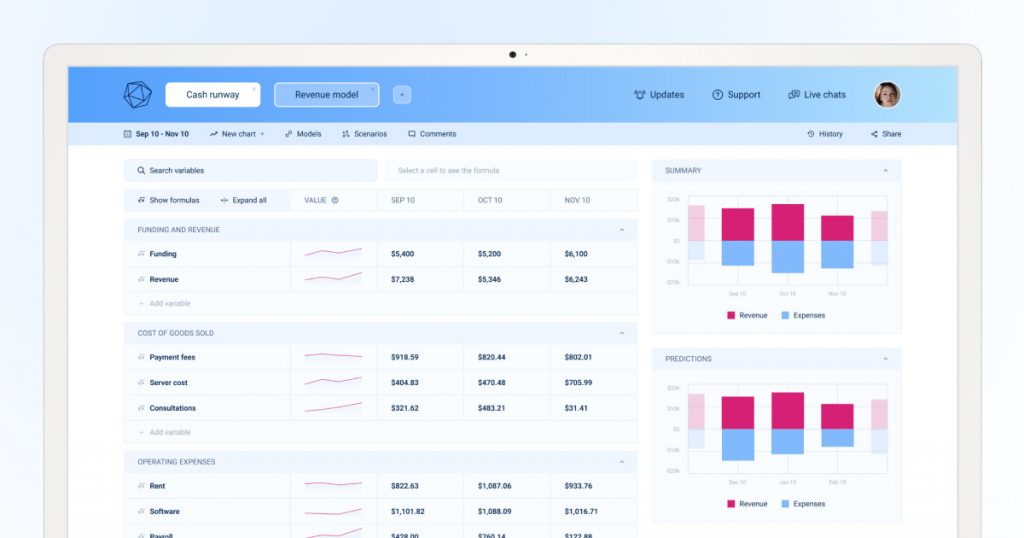 As a SaaS solution, the system allowed for broadening the services of the client and improving the market positioning as a reliable B2B service provider. More and more companies understand that having no financial plan or budget in place with clear tracking by digital means in real-time can cause stress and overwhelm not only the company owners but also its processes and activities. The introduction of analytical and predictive models can assist with overcoming the stress level even more.
The customer offered budgeting services for B2C, though understanding the turbulence of the modern world and witnessing how their friends lost their business due to the pandemic and insufficient control over their capital, they decided to scale their services to B2B as well. That is why the system was designed as a platform for any company wishing to bring more certainty to their business life.
Customisation, user-friendliness, and clear algorithms for predictions were placed as core objectives in the course of the development. In addition, the system should take the information from external resources through protected channels and stay secure at every stage of data use.
The developed platform allows companies to build, manage and evaluate their financial system with specialised analytical and predictive features. The modules of the system were built based on the performed analysis of the market and existing competitors to fit the niche and suit business goals. Being adjustable, the solution can cover the needs of the companies of small businesses from any domain. With real-time updates company's management gets an opportunity to react in the least possible periods to introduce necessary budgeting fixes as soon as possible before the occurrence of any harm. As for critical decisions, it can save up to 3 times less time due to automated processes and predictive analytical and risk assessment models.
less time for critical decision making
of prediction models come true
options for charts adjustment