The digital transformation of any business can bring new opportunities and challenges, including widening the scope for product realisation. The ability to target your advertising, improving on-line communication with customers, and making it easier for your customer to make purchasing your product much easier. More and more on-line entrepreneurs are attracted to this development.

This article shows that e-commerce is a business that is open to everyone, that you don't need to have any technological experience. This step by step guide will run you through the options available to you so that you make the correct choices for your potential e-commerce business. From choosing the right developers and building a development team to costings.

No need to say that the scope of an e-commerce trade grows with each year, according to Statista data. Meaning now is the right time to bring your business into the spotlight and begin to shine. There is money to be made, be part of it.

Initial steps of e-commerce on-line launch
Research and planning
Business model
To begin with, all businesses start with choosing the right business model that fits your idea perfectly. Research your options carefully, the decisions you make at this stage form the foundation of your business.
Possible models can include physical or digital product sales, tendering, or marketing services. Careful planning at this point will define your business.
Don't forget to pay attention to which category your future business type will fall into. These are generally, amongst others:
B2B – Business to Business;
B2C – Business to Consumer;
B2G – Business to Government;
These categories define who your business services/product is aimed at, your final consumer.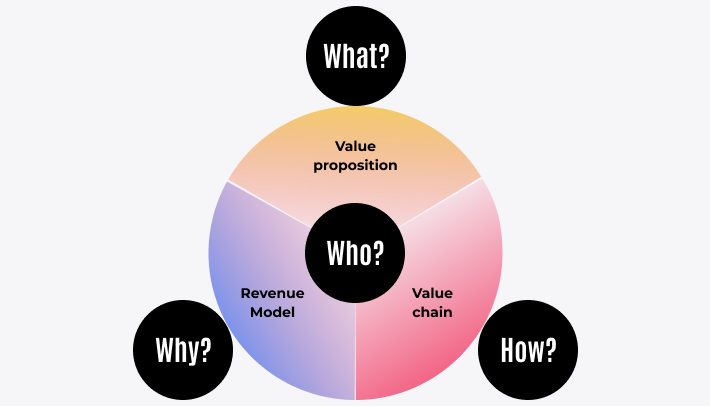 E-commerce niche and target audience
After making your business model choice, now it is necessary to give consideration to which niche in the market is right for you and your business.
Perform an in-depth study and research as much as you can in your chosen area of interest. Begin with your potential competitors, particularly the most prominent companies you'll be competing with. Remember, if your niche is already over-occupied and competition is strong then your road to success may be a more difficult one.
The same situation can be found if the opposite is the case. What if your chosen niche in the market is under-occupied? This can mean either the market demand here is too low making survival difficult or, more worryingly, a stronger, larger company already has a monopoly in this niche. Can you squeeze your foot in the door here? The niche may have high demand but it doesn't make it easier if one or more of your potential rivals have any kind of a monopoly.
The best and possibly safest choice for a niche market is one that you personally have an interest in. Here you will understand the problems, difficulties, and concerns of your customers and be in a position to help them through your own experiences of your chosen field. You will be in a position to provide the best deals and advice. Start small and grow gradually and carefully.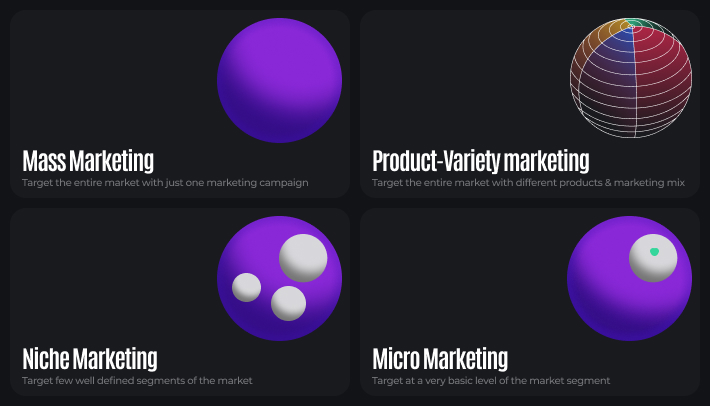 You've now found and chosen your niche market, now turn your attention to your potential customers. Pay close attention to their problems in terms of what your product can do for them. This evaluation can appear superfluous but it may also greatly influence and enhance the appearance of your e-commerce website. Study the target age bracket, habits, national and regional peculiarities etc., this can form the basic architecture of your website.

Business plan
Now let's turn our attention to planning the business processes and financial issues. Consider your costs, the staff you'll be employing, the teams who will provide various services remotely. Take into account the costs involved in sourcing products, the logistics, and the distribution of your product. Doing this now will save time and possibly expense. Do not wait until after the launch of your business.
Define the budget that is available to you to invest in your e-commerce website. Also, make available funds for your chosen team of developers or website builders subscription. Bear in mind the price/quality correlation too, no good product will come cheaply but at the same time, the expense is no guarantee of high quality either.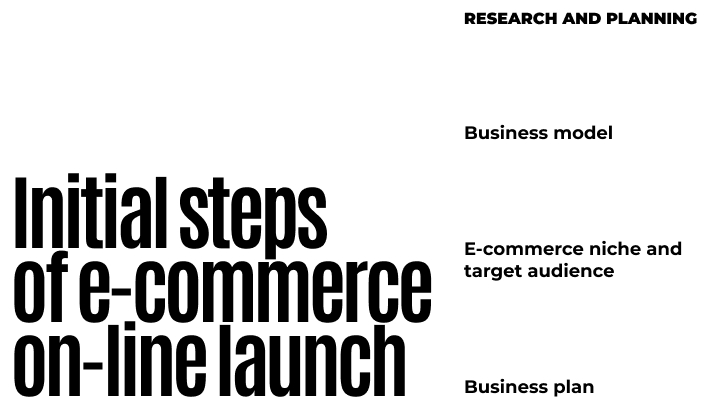 Bringing the e-commerce idea into life
Development and legal issues
Business registration
All businesses have a name, a logo, a title. Yours should too, make it stand out from the crowd, make it visible. This doesn't mean it has to be bold or brash, but recognisable. Find a name that somehow describes what you offer, this makes it easier for your consumer to find you in search engines and listings. Your logo visualise your business ideas. Either create it yourself or there are specialised agencies who can create something special, including the entire branding development.
After completing your idea on paper, register your business, seek out the appropriate licences and permits that may be required for e-commerce activities. These can come in various forms and requirements may differ from country to country, so It's advisable to seek out professional advice from legal services in your area beforehand.

Development of the online shop
Depending on your calculated budget in the business plan, choose the option that meets your expectation from the final product and its cost.
Basically, there are three ways to develop your e-commerce product:
Learn how to code and do it yourself;
Use appweb builders and construct its final appearance from ready-made blocks;
Hire a team of developers who build and launch the final product for you.
Let's go through these options, first the Do It Yourself option. If you have no or very little experience in this then you'll find that having to learn how to be a developer is a long, drawn out, the time consuming effort.
It's also recognised that experience and knowledge are key factors when attempting the Do It Yourself option and without this knowledge and experience the result is a low quality product.
Second is the App/Web builders option which gives you more freedom when it comes to creating your website. Within days you can create a virtual master piece at relatively low cost. The down side to this option is when things go wrong, who will fix any future problems that may be encountered? Such downtime can prove expensive to your business.
Third, and probably the safest option is hiring a team of developers dedicated to take on e commerce software development services. Although more expensive initially they will probably save you more expense in the long term.
The right developers will give you a quality product, ensuring you get exactly what you need for your e-commerce website. It will be unique and stand out.
Some teams offer branding development to complement the website, also for the one outlay you can get the logo, typescripts, marketing, promotional materials, website application, the list goes on and on. Working with your chosen team ensures that all products will be of the same style and convey the message that your business promotes and stands for.
When creating the website numerous things have to be considered regarding the final serviceability of on-line shop examples of this are loading speed, design features, compatibility with payment gateways, business structure, SEO, and many other factors. We have listed these to show that your chosen team who see similar websites every day can really make a difference in choosing what to introduce and when to introduce it.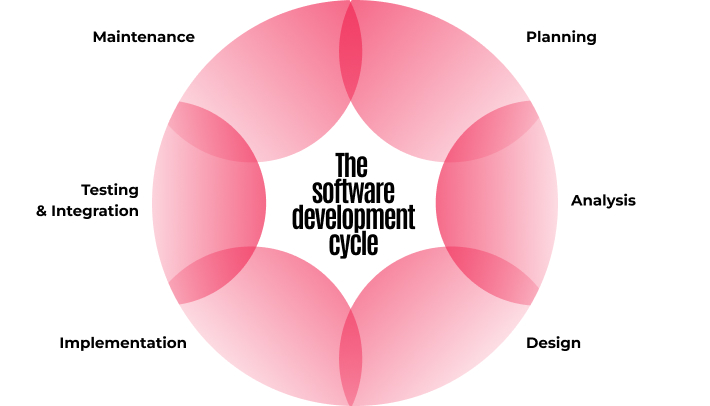 Even when using a very experienced dedicated team be prepared to wait, don't expect all of this overnight. It takes time to get these processes right. Be patient.
Also remember the more complex the project, the more expensive it may be, and the longer it takes to develop. The final price will depend on the complexity, the number of modules, and expandability of the product.

Cost for the development of e-commerce online shop
Prices vary depending on the development team you choose. They can be full time, in house developers, they can be outsourced or they can be freelance. The most expensive option here is understandably the in house team. Then we have the remote teams, from Europe and North America, and finally the least expensive of the in house teams are from India and South East Asia. Freelances are to be found in all regions and countries and their prices can differ vastly too.
Choose the option that suits you best. Whether it be quality, low price, fast deployment, warranties on the code, or even specific communication with the team, the choice is yours.
Bear in mind too that no specialist can give an accurate final price if they doesn't have all the information needed. Prepare a list of features you require included into your final product, discuss them with the team, this will lead to a more accurate quote. Make a preliminary estimate statement of works.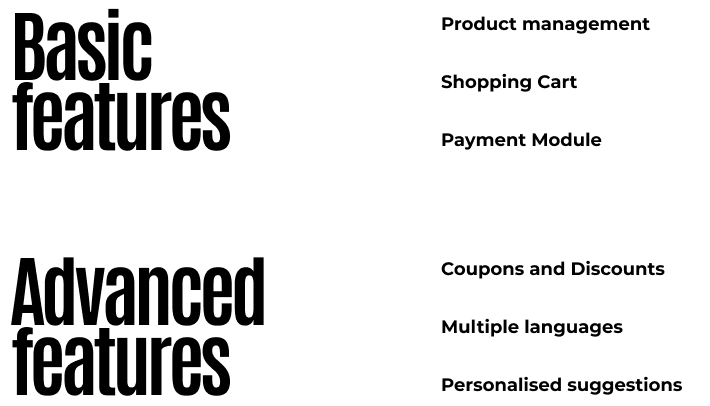 Team of developers to build a quality online e-commerce product
Your chosen team of developers (In house or Outsourced) should be made up of the following personnel:
project manager – coordinates the entire team, serves as a link between team and business;
UI/UX designer – creates the visuals of the future product, evaluates the experience of the target user in each particular design;
back-end developer – deals with databases and server part of the product;
front-end developer – brings to life the mockup prepared by the designer;
mobile developer – should you choose to move to the mobile platform to attract more customers and increase the lifetime value of each customer with the aid of special application;
QA – checks that everything works as planned.
This is a basic team equipped to make a good product having only the business idea. Sometimes others like business analytics, marketers, PR personnel can be used to analyse the market before the start or help with promotion after the product launch. These are extra expenses and you may choose to do this yourself.

Launch and what to do after
Promotion and selling
Bring customers to the business
Usually, a team of developers performs the launch process, though the further marketing activities on attracting the customers is the responsibility of the business. You can use social media for promotion, search engine optimization, search advertisements, and other tools to bring new customers to your fresh e-commerce website.
This can be a tough process but don't be discouraged and remain optimistic. It all takes time. Try launching several media ad campaigns but keep an eye on your set marketing budget.
Having then experienced positive results and sales start to materialise consider expanding your business. Launch the application or try to broaden your niche market, run these ideas past your development team and they will be glad to assist. Most teams offer continuous maintenance of the code to ensure its stable long term operation.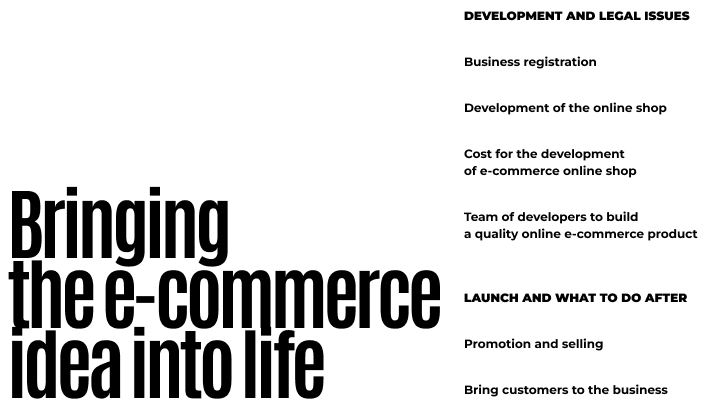 A well developed, high quality e-commerce website will be an investment and a solid foundation for future business expansion.
The rate at which e-commerce continues to grow is hard to ignore. The key to success is your ability to find the right business partners who can implement the idea using correct techniques.

Do not be afraid to broaden your horizons and find the teams who can save your capital, whilst not compromising on quality.
Still hesitate about some technical issues – contact us and we gladly help you.

---