All eyes in the business world, including the real estate industry, are on 2023 because it is only a few weeks away. This is obvious, considering the turmoil we have been living under since 2020.
We believe it is safe to say that the real estate business has performed pretty well despite the turmoil of recent years, and this is because of technological improvements and tools that support all stakeholders at these challenging times.
Technology has improved the position of agents, lenders, investors, homeowners, property managers, and real estate business owners. What technological advancements may we expect in the upcoming year naturally come to the minds of many players in the industry?
In this article, we will answer this question by analysing the leading real estate tech trends that may significantly impact the real estate industry in 2023.
Real Estate Market Overview in 2022
The way we buy, sell, finance, and invest in real estate is continually changing thanks to emerging technologies. Startups make use of these advantages and focus on establishing innovative business models. The latter aim to further revamp the worldwide market and define the direction of real estate technology. Leaders can navigate the real estate industry in 2023 by concentrating on strategy execution, talent, and innovation.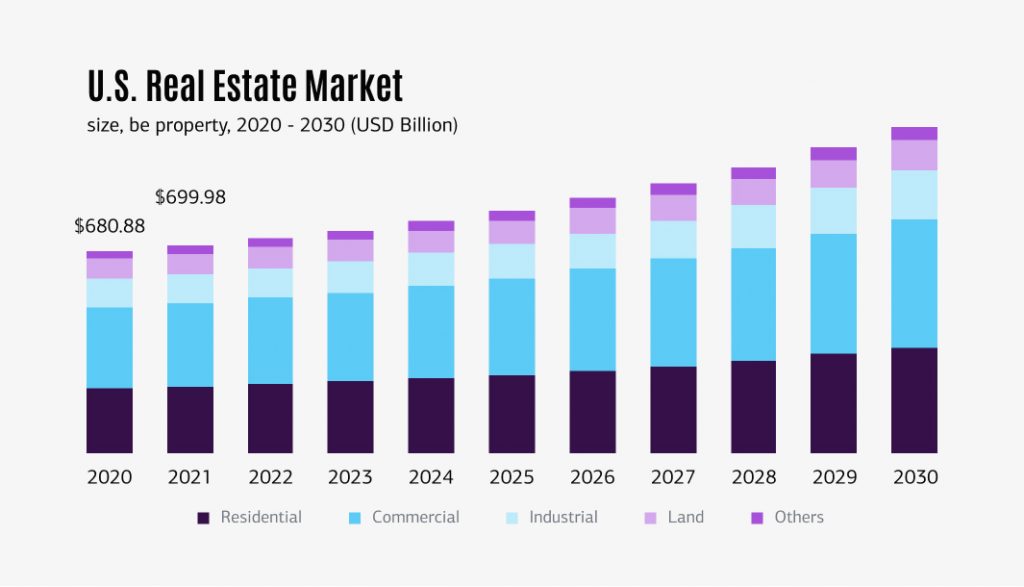 New Business Models
A proptech company develops technology that is used in the real estate industry to improve the efficiency of managing, controlling, planning, trading, and using real estate. These companies focus on technological innovations to advance the real estate industry and streamline procedures. Therefore, choosing a business plan carefully is essential when beginning a proptech company.
Additionally, real estate innovation technology businesses develop an increasing number of models to satisfy their customers and stay up with the new and progressive age.
Open platforms: These platforms can create cutting-edge investment models, such as syndicates and rolling funds, for construction and renovation projects. They focus more on quantity and the need to find everything anywhere.
Curated platforms: These platforms serve as marketplaces where customers can buy a more specialised product or behaviour and expect it to meet specific standards. The revenue theory supports both parties' commissions.
Brokerage: The critical element of such a business model is providing customised service. They remove financial or legal obstacles or add transparency to pricing and matchmaking with the help of machine intelligence.
Operator/Management Company: Businesses design spaces and lease them for a long time to increase their value. They can now provide adaptable shorter-term rents at a profit thanks to the improved design, hospitality, technology, and brand or make visuals more attractive to renters or buyers by applying VR techniques.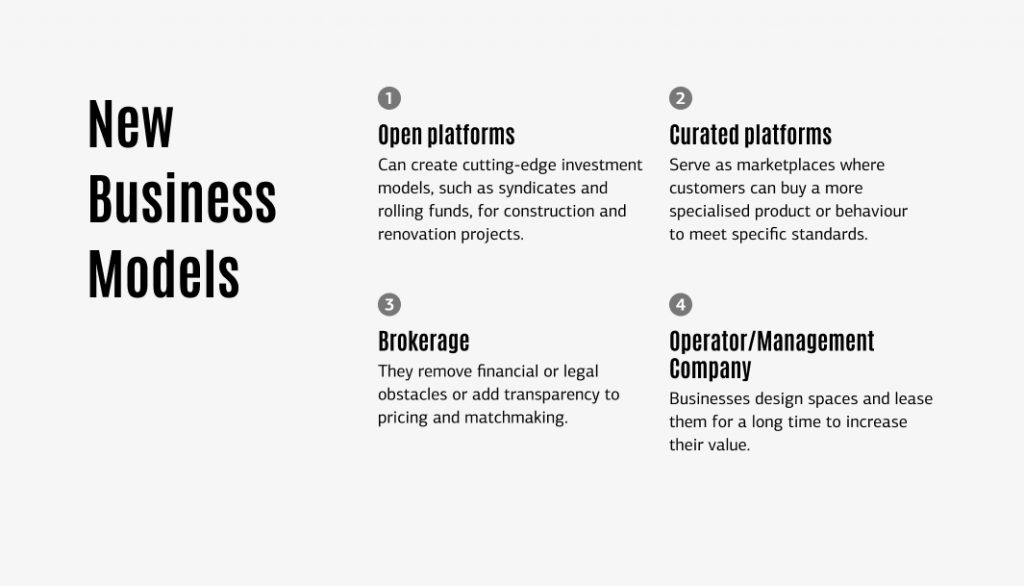 Real Estate Tech Startups
Real estate companies have a great chance of expanding quickly because of the increasing financial worth of the sector and the potential for innovative business models. Marketplaces, which link consumers and sellers, are the key disrupting forces in the sector. For instance, Airbnb challenges hotels by enabling you to rent a room in a house with others without needing agents. WeWork, on the other hand, permits sharing a workspace, posing a threat to office management agencies.
Startups in real estate revolutionise the industry. The following are some of the most promising real estate startups:
Triplemint
Triplemint prides itself on providing a data-driven and customer-centric strategy. They prioritise the use of predictive analytics to estimate the real estate market.
Hubble
Hubble is a marketplace that simplifies the process of renting offices. They support their clients in moving the environment and enhancing accessibility by using the most recent real estate technology trends to acquire information about suitable workplaces throughout the UK.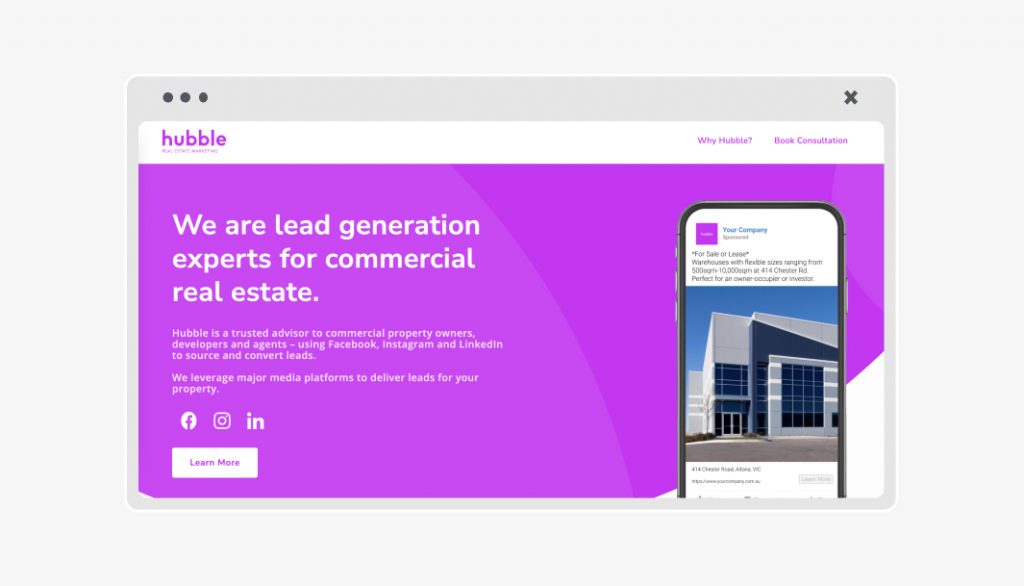 CompStak
Compstak For investors, it provides commercial real estate technology trends. With the help of precise statistics and open data, their objective is to eliminate the industry's inefficiency of data sharing.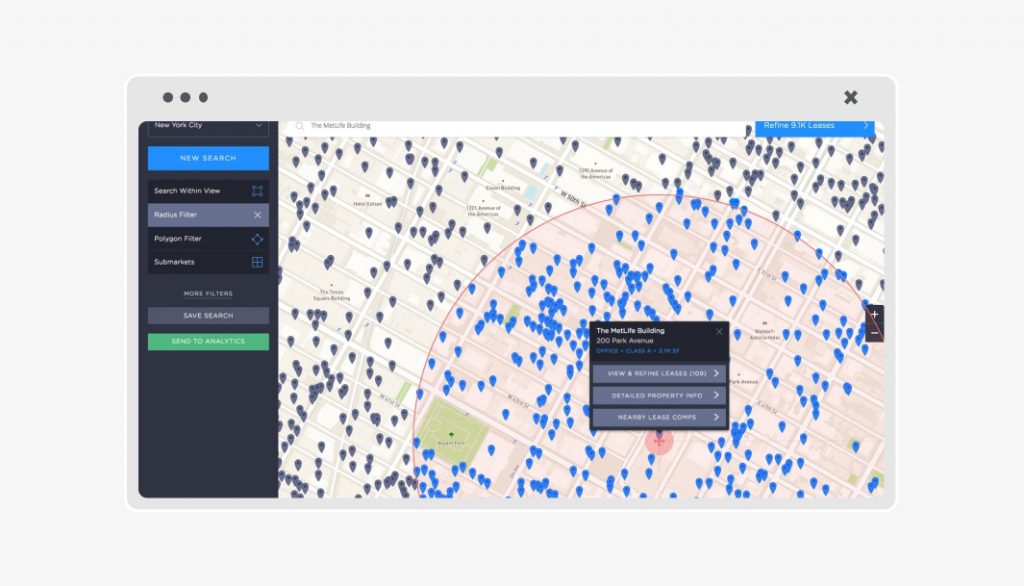 Challenges in the Real Estate Industry
The commercial real estate business is experiencing unprecedented uncertainty. Inflation, interest rates, and geopolitical risk are the most pressing issues.
Resistance to changes
Real estate does not evolve as quickly as other businesses, particularly in terms of technology. Most business owners find it challenging to convince them that they require this new application or should make a real estate website. The adoption process may be sped up by monitoring what the real estate business needs.
Furthermore, both consumers and companies are unsure about many recent breakthroughs and their value, durability, and stickiness. Even those who are open to early adoption approach new technologies and procedures carefully.
Hard to get early funding
Engagement and willingness to pay decrease due to the low adoption rate. It is challenging to get investor funding for your business. They must convince them that the company or product would benefit the market segment. However, investors are opening their wallets to new opportunities as the market grows.
Weakening economy
The economy continues to worsen, with high inflation and rising interest rates due to geopolitical uncertainties. It will also create more changes in the housing market in 2023. A booming economy leads to greater demand for real estate and the launch of new businesses. On the other hand, a weakening economy puts downward pressure on the performance of existing commercial properties.
Cybersecurity interruptions
Cybersecurity risks in commercial real estate are rising due to technology improvements affecting property functionality. Control systems and insurance gaps are common sites for cybersecurity incidents. Furthermore, insurance providers and brokers are not primarily concerned with offering cybersecurity insurance coverage.
What is the result? Concerns about safety, uncontrolled access to business networks, and considerable brand damage. As a result, it impacts all parties. Still, it can only be affected by investors and owners who are in charge of policy enforcement, evaluations, and active monitoring.
Real Estate innovations
Many factors have affected the real estate business in recent years. Together with its immense potential, it has put enormous pressure on the industry to innovate and strive for digital transformation.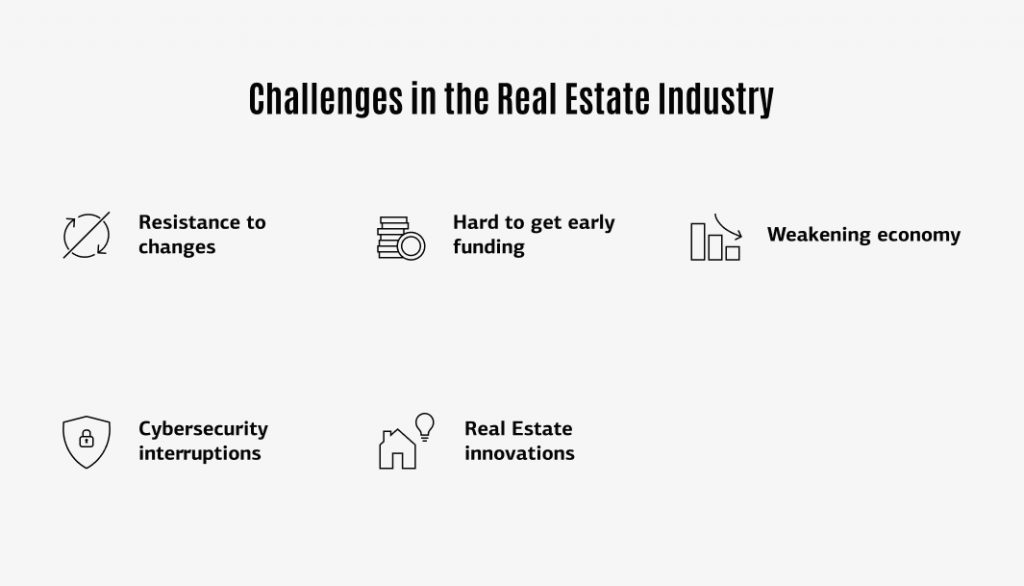 The following problems are also introducing something new to the proptech business. As a result, anyone looking to enter the market or offer new products must use them to their advantage and take them into account.
While cybersecurity is a significant challenge, there is a need for solutions that will give assurance to all industry stakeholders. Real estate companies are still looking for methods to increase efficiency through process agility and robots. As a result, automation is still widely used, requiring IoT and CRM software. Users expect a better user experience and more convenient reporting. Therefore, new data and analytics solutions are in high demand.
Proptech trends in 2023
A pandemic that caused a quick transformation in the real estate market has significantly impacted property technology. As agencies and consumers encountered several issues, it resulted in numerous innovations and improvements that are predicted to grow in the future.
Metaverse
The development of virtual real estate and investment opportunities is the second big technological trend we predict to drive real estate in 2023. In 2021, the worldwide metaverse real estate market was worth $821.9 million, with a predicted growth of $5.95 billion by 2028.
This growth is driven by advancements in other real estate tech trends such as virtual reality, augmented reality, and the use of blockchain technology to real estate. However, because purchasing assets in a virtual world is still a relatively new concept, investors will likely proceed with caution. While the metaverse provides a unique way to diversify your portfolios, investors may consider it unreasonable to shift all of their investments from physical real estate to virtual properties.
3D Modeling
The usage of 3D is increasing in many industries, including real estate, and it is making our lives simpler. 3D real estate is quickly becoming one of the most popular technologies, with several practical uses that offer enormous value. 3D models are critical tools for ushering in the era of technology developments in real estate.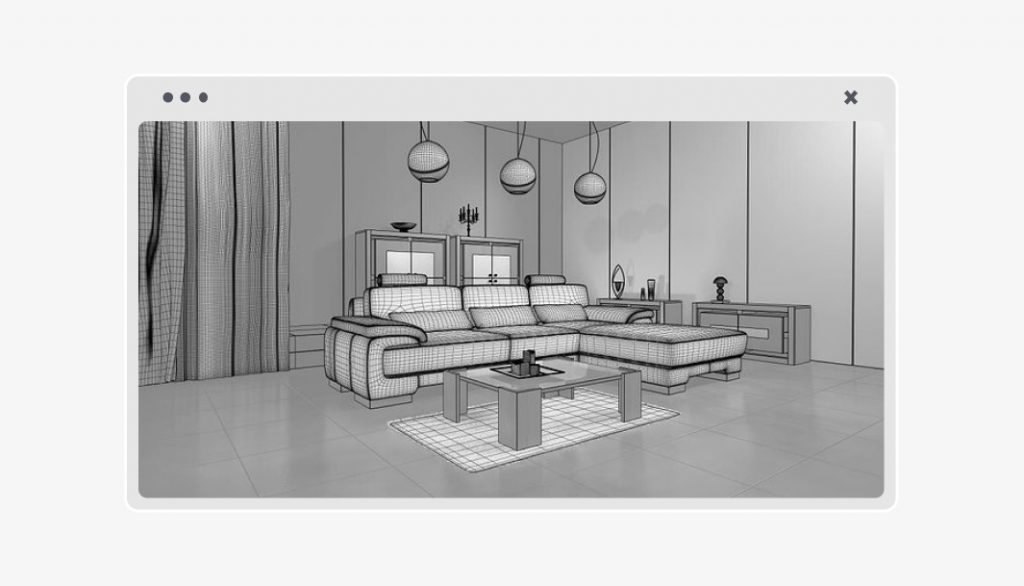 We can easily create a comprehensive 3D model from 2D plans using 3D modelling. As a result, viewers may practically walk around a 3D property model and comprehend its entire area.
VR & AR
The usage of virtual reality (VR) and augmented reality (AR) is not a new trend, but the pandemic has driven it. Due to closure restrictions, many agents and property owners were forced to rely on virtual property tours as the best alternative to in-person showings. This method proved significant advantages over traditional property showings, indicating the successful future of real estate technology.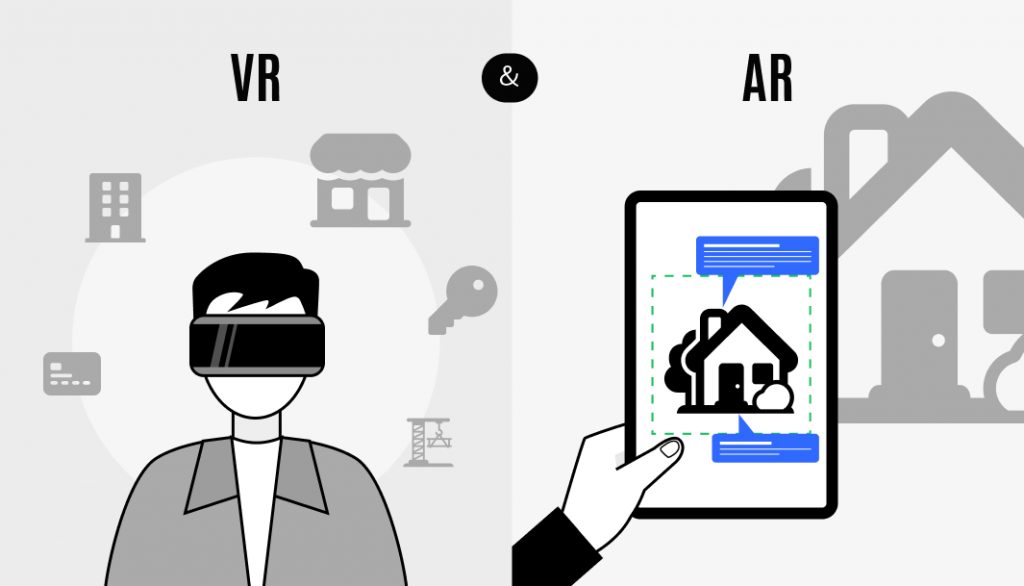 According to a Matterport survey, listings featuring 3D virtual walkthroughs close 31% faster and sell for up to 9% more. Expect the usage of VR and AR in real estate to grow, particularly among investors. While homebuyers may be more inclined to visit their potential house and get a sense of the environment before making a purchase, 3D tours and walk-throughs often suit the demands and criteria of investors.
CRM software
CRM software may collect leads, manage contacts, store data, and follow the progress of prospective prospects. Real estate agents may have online accounts where they may view all of their interactions with potential and current clients. They may select to send messages to different types of people who can deal with them. Such systems are designed to manage the entire process, from processing incoming requests and creating price quotes through selling and managing property.
IoT
IoT (Internet of Things) refers to the idea of ordinary physical things that are connected to the Internet and therefore interconnected. As a result, IoT devices and sensors create a network of smart devices that can communicate with one another.
The application of IoT technologies in the real estate sector allows real estate businesses to interact with clients and renters to better control smart devices and residences, while managers may monitor various aspects of the property.
Big Data
These software development trends in real estate expand data handling options. Big Data makes vast volumes of data storage, transfer, and processing easier. Real estate companies are constantly dealing with massive amounts of data. As a result, the technology enhances various real estate data-related procedures.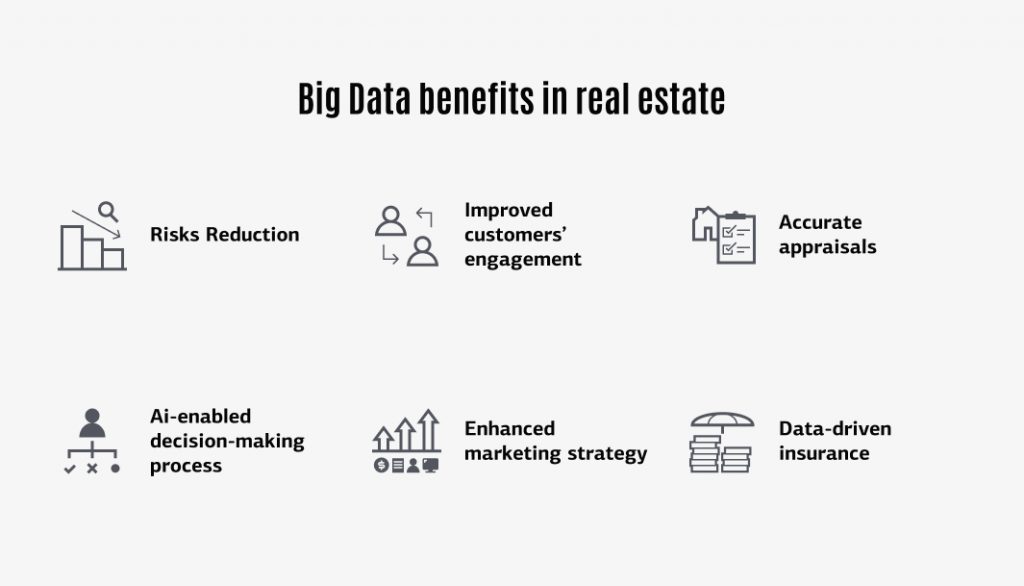 AI-Enhanced Analytics
Artificial intelligence (AI) development has been ongoing in the real estate technology business for decades, with significant improvements in recent years. Property investors, for example, may now identify and analyse deals at previously unimaginable rates and speeds. AI and big data have made this possible.
AI quantum computing is a new coming trend that we expect to see more of in 2023 and beyond. The worldwide quantum computing industry is expected to grow from $470 million in 2021 to $1,765 million in 2026, and this is most likely only the beginning. This relatively new technology has only found limited use in real estate. However, we believe the potential is enormous, and as technology advances, we may see more and more proptech companies incorporate quantum into their algorithms.
Mobile apps
Real estate applications provide unparalleled ease for on-the-go searches. Real estate stakeholders include sellers, renters, landlords, and agents. As a result, different types of real estate mobile applications answer distinct difficulties for each participant.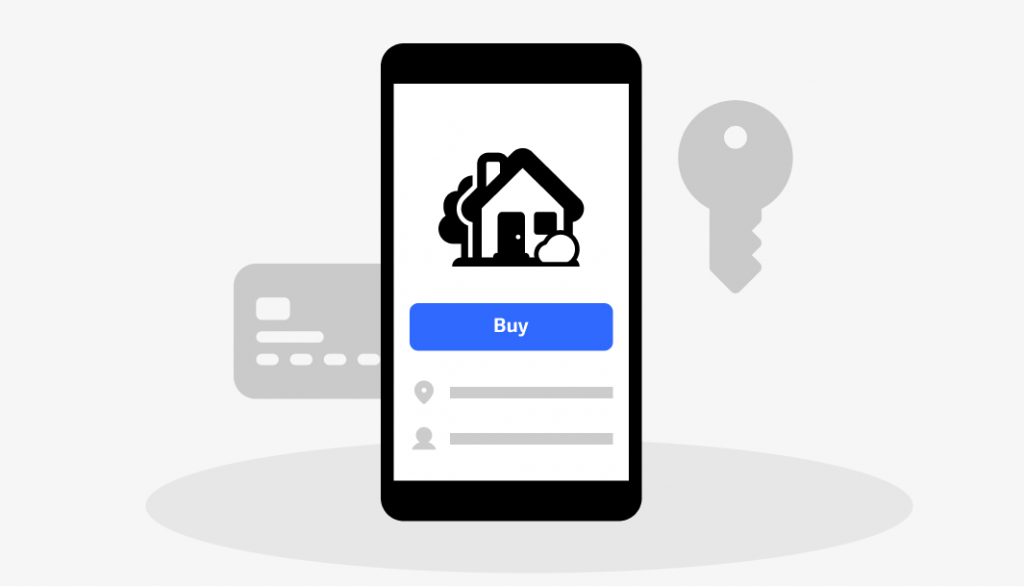 Customers, for example, may check all of the information regarding the property value using house valuation real estate applications. Sellers may calculate the worth of their house using such an app. The assessment employs AI and ML approaches based on the location, square footage, number of rooms, and other factors. There are also house searching rent applications. They enable users to look for various types of rental housing.
Conclusion
If you want to be a leader in the real estate market, you must always keep up with real estate technology trends. Furthermore, you must understand and execute the most recent software solutions. They will allow for the enhancement of all real estate processes. Furthermore, deploying cutting-edge real estate technology provides several benefits to both customers and businesses.
AI, VR & AR, the Internet of Things, Virtual Tours, Big Data, and other technologies enable big improvements. They enhance every process and enable the successful automation of a wide range of real estate-related activities. In fact, they will undoubtedly shape the destiny of the whole real estate industry in the next years.
EVNE Developers team works with front-end, back-end, and API integration solutions, we always focus on identifying and comprehending trends. We deliver services that fulfil our client's expectations while staying ahead of our competition by staying on top of technology and real estate tech trends.
Meanwhile, check the trends in edtech industry we described in our article.
---