Do you want to develop a real estate website but don't know where to start?
It is natural to feel puzzled while starting an online business, but with proper guidance, it becomes much easier. This is a step-by-step guide on how to create a real estate website in a few steps.
This article is targeted at beginners who want to improve their online presence, increase customer flow, and expand their real estate companies in new markets. It aims to help you in creating a feature-rich and dynamic real estate directory without the need for technical assistance.
So brokers, estate agents, and anybody else who wants to build a real estate web site and generate some passive income through the web directory can start with confidence and avoid making wrong decisions.
Why You Need To Create a Real Estate Website
It may seem obvious why any business needs a website, but real estate agents may profit especially from a well-designed, responsive, and informative website in the following ways:
Establishing your expertise
Real estate agencies are only trusted when they keep their reputation efficiently. A website is an excellent platform over which you will have complete control. You will be able to stay involved and collect all online reviews. Build credibility by being transparent and proving your expertise while offering custom content on your website. You should also consider launching a blog. Use your website to its maximum potential – testimonials and awards are useful in developing and maintaining your reputation.
Provide up-to-date information
On your real estate website, visitors must obviously be provided with information on what property is being sold in the area, and what is now available on the market. Real estate websites with outstanding local content and a good search experience are likely to attract a lot of traffic.
Attract more customers
Millennials are the primary demographic for purchasing real estate online. According to surveys, Millennials prefer to browse for residences online rather than visit real estate agencies. That is a significant advantage for you since after you build a real estate web site, you will be able to reach a whole new buying group simply by applying modern techniques and using real estate tech trends.
Time-saving
There is no need to meet and waste time in traffic. Real estate websites must include accurate property information, beautiful property photos, and sometimes even a 360-degree view of the property. You may always contact the clients using online web forms or emails. It's always a great idea to stay in touch with your clients.
Lead generation
First, you can get assistance with engaging clients and capturing possible leads on your website. The goal here is to create enough traffic to deliver enough clients. To achieve these goals, the website must be well-optimized and structured.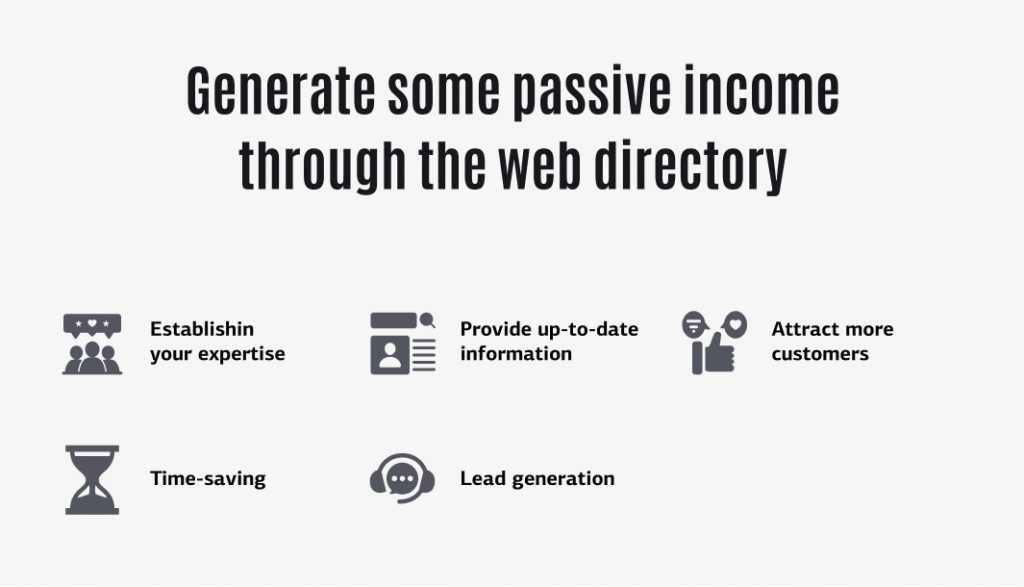 Types of Real Estate Websites
You know how difficult it can be whether you're the one who sells, buys, or rent a property. Each case has its own set of challenges, as does each job. As a result, we come to a very logical conclusion: build a real estate web site for different user roles with varying functionality.
Here're 4 of the most common types of real estate websites you may choose from:
Property listings
Have you ever looked at photographs of a property for sale, read about it, or watched a video about it online? Then you've probably stumbled upon a property listing website. A property listing site includes all available properties for sale or rent in your particular area. These results may be filtered by price, size, amenities, location, and many other variables. You may contact an agent or schedule a tour through that website if something interests you. Examples of popular property listing websites include Realtor and Zoopla.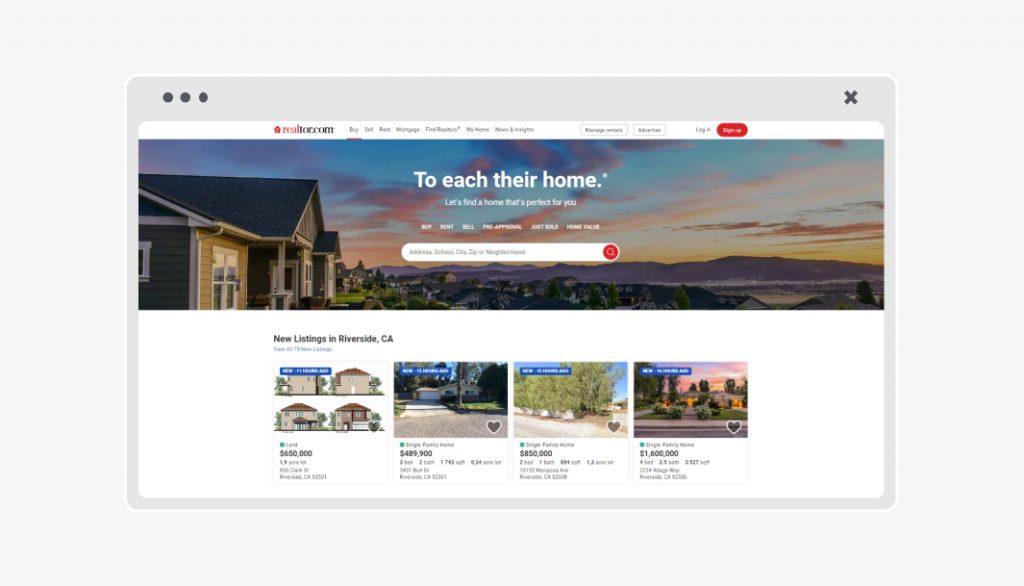 Real estate marketplace
A real estate marketplace serves as a "go-between" for property owners and buyers. A real estate marketplace allows a property owner or their agent to display their house and handle reservations, while sellers may examine properties from several sources in one location. Some marketplaces for real estate may also include helpful tools such as mortgage calculators to determine if you have enough money to purchase a specific property. Zillow and Redfin are two well-known real estate marketplaces.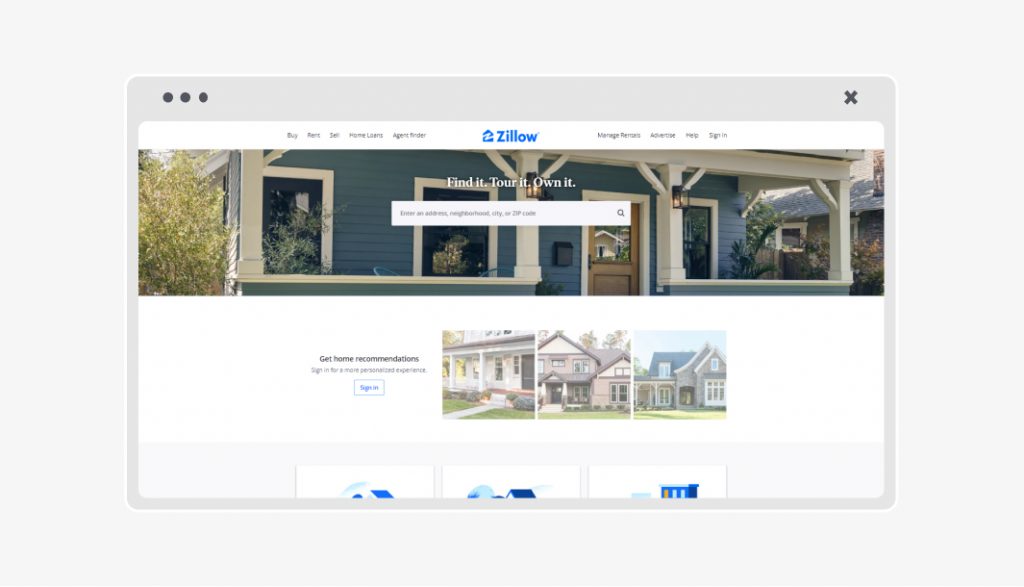 Property management website
Property managers play an essential role in the day-to-day operations of multi-family housing, such as apartment buildings, and property management websites assist with task management. In addition to marketing property management as reliable and trustworthy, this type of website functions as a central hub for residents.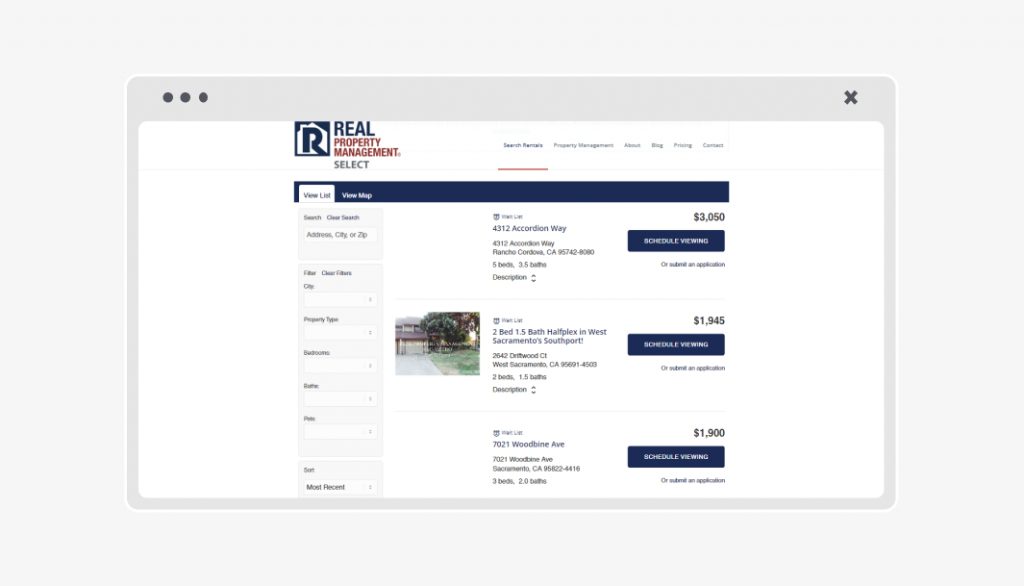 Realtors website
Even if they are affiliated with a more prominent agency, a single agent or a group of agents may choose to develop real estate website. A real estate team is a group of people that work together to assist clients in finding their perfect properties. They frequently specialize in a specific location, region, or neighborhood and are deeply familiar with the quality of life in those areas. These websites offer property listings and agency information much like an agency website, but they place an added focus on the team.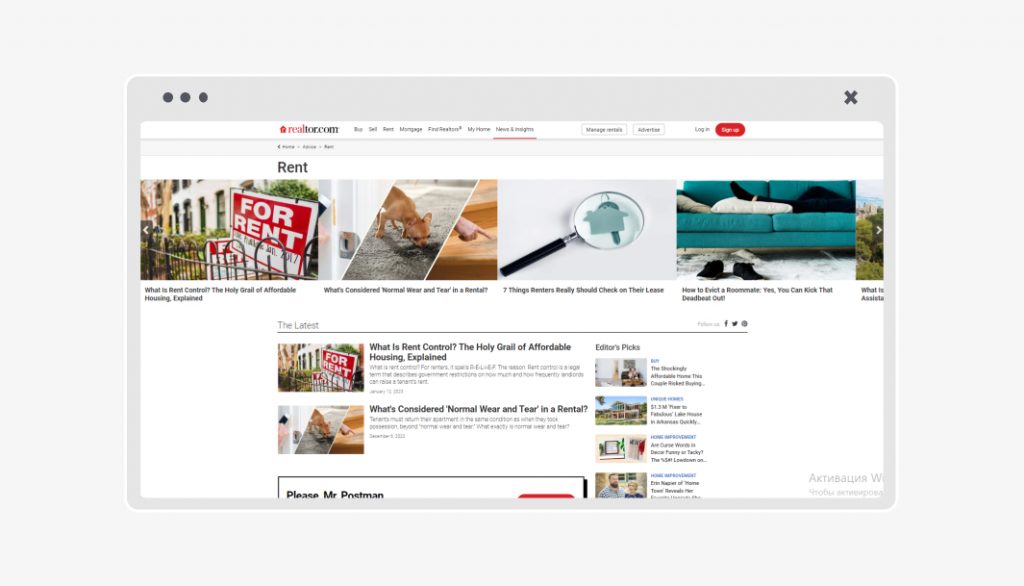 How You Can Monetize a Real Estate Website for Your Business
Paid Advertisement
Advertising has been a key marketing tip for years and is the most popular income generator for real estate websites. The best method to start your advertising campaign is through Google Adsense. You can also grant access to other agencies to market their services. Property agents, mortgage brokers, or banks should be your target audience for advertising space.
Freemium
Freemium is the second most prevalent monetization strategy in the online web arena. If you want to provide free access to the significant elements of your website, this model is for you. If the limited amount of features isn't enough, clients pay a predetermined price to have access to additional valuable services, such as accessing listing that isn't available on the internet or viewing complete property details.
Listing Fees
Listing fees are acceptable for real state marketplaces. It works like this: before sellers advertise a property, they must pay a 1% fee to the site. If the listing includes extra features like sponsor ads or a palace at the top, it can cost more money.
Subscriptions
In this model, you charge homeowners a fixed monthly or annual cost. As a result, they can publish a limited or unlimited number of listings. This one is best for real estate marketplaces and property management websites.
Top Features for Real Estate Website
Moreover, there is a list of core real estate site features that function as its basis. The following list of real estate website features is made up of the major components required to make a real estate website. The set of features depends on the type of website you choose.
1. Multiple listing services access
A good real estate agent website should provide visitors with access to MLS data. MLSs are local databases of available properties for sale, enabling sellers and property owners to make their properties visible and accessible to numerous agents. MLS integration connects a real estate agent's website to the local MLS database. The disadvantage of this type of integration is that access is not exclusive, even though the entire process is handled and set simply and practically. The Internet Data Exchange (IDX) allows you to get listing data from MLSs and incorporate it into your website.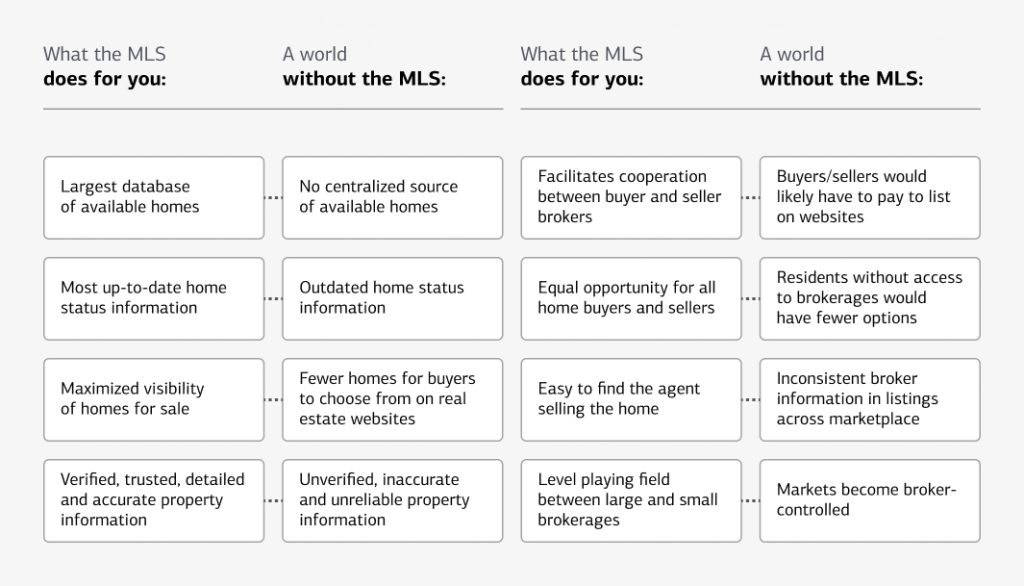 2. Search filters
A user-friendly search engine that can answer complicated searches is vital for a real estate platform. The most basic search iteration would just feature standard filters like location, price, size, etc. Modern real estate platforms, on the other hand, make use of big data and integrations to deliver far more precise information about properties:
Local residents' opinion, the area infrastructure, schools, and maintenance, among other things;
Information about the region's crime rate;
LGBT protection rating indicates how communities and local legislation treat LGBT people;
Likelihood of natural disasters;
Average age, family status, and local citizen education.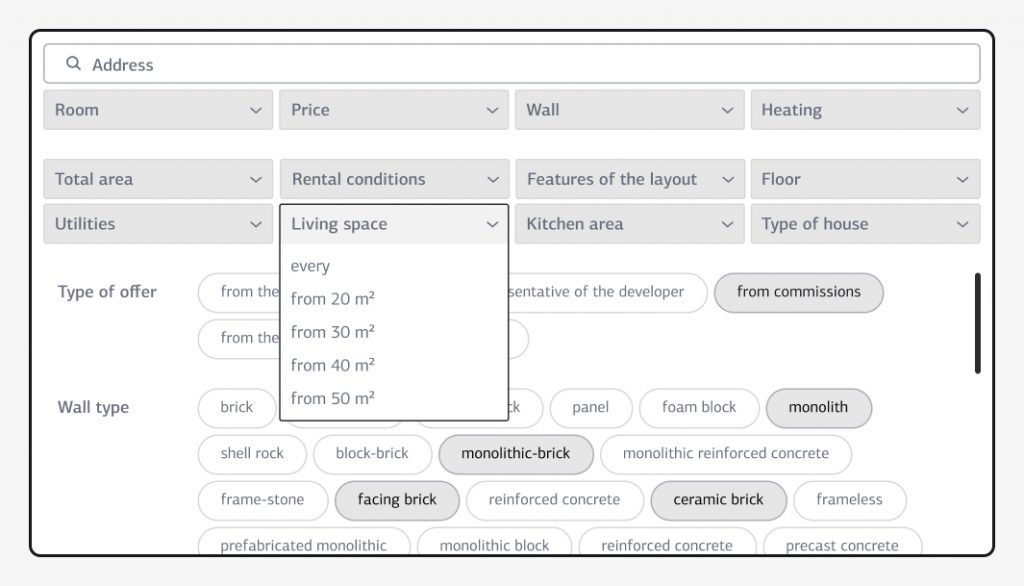 3. Map features
A real estate platform would be impossible to imagine without maps, as the location of a property is one of the most important factors for potential buyers. Most real estate websites use Google Maps due to customer comfort. However, as an alternative, you might use a map service called Open Street Maps.
Aside from displaying the user's IP and GPS location, real estate platforms integrate with various online services to provide relevant information on the map, such as neighboring restaurants, schools, and even streetlights.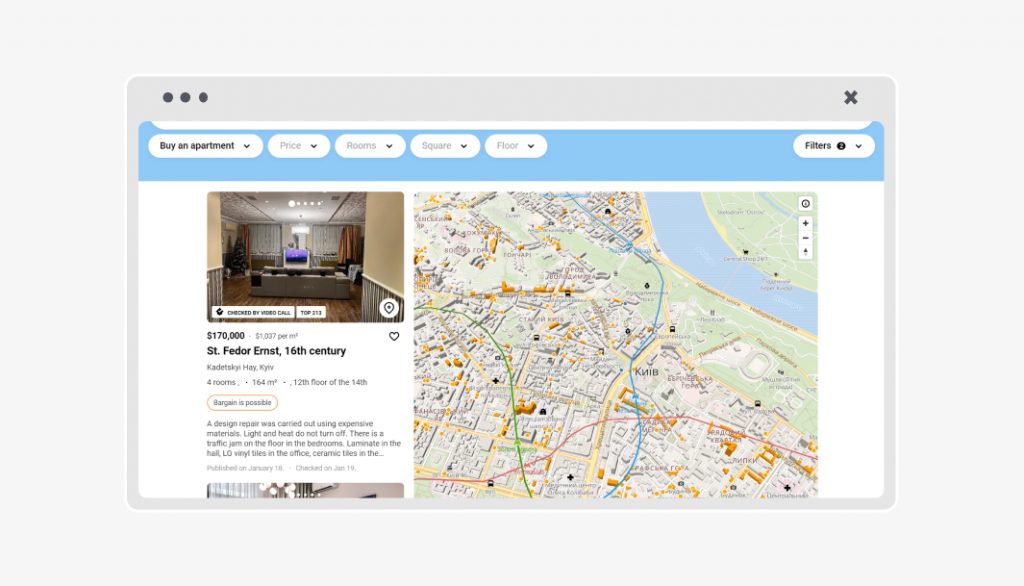 4. A set of photos for each real estate asset
Though straightforward navigation and responsive design offer exceptional user experience to your website's users, the success of a site is evaluated by how many sales are closed with its help. But first, potential buyers or tenants must express an interest. Professional-looking property photographs increase this interest. Relevant and high-quality photographs speak for themselves. Thus, it's a good idea to set strict size, format, and resolution standards for photos on your website.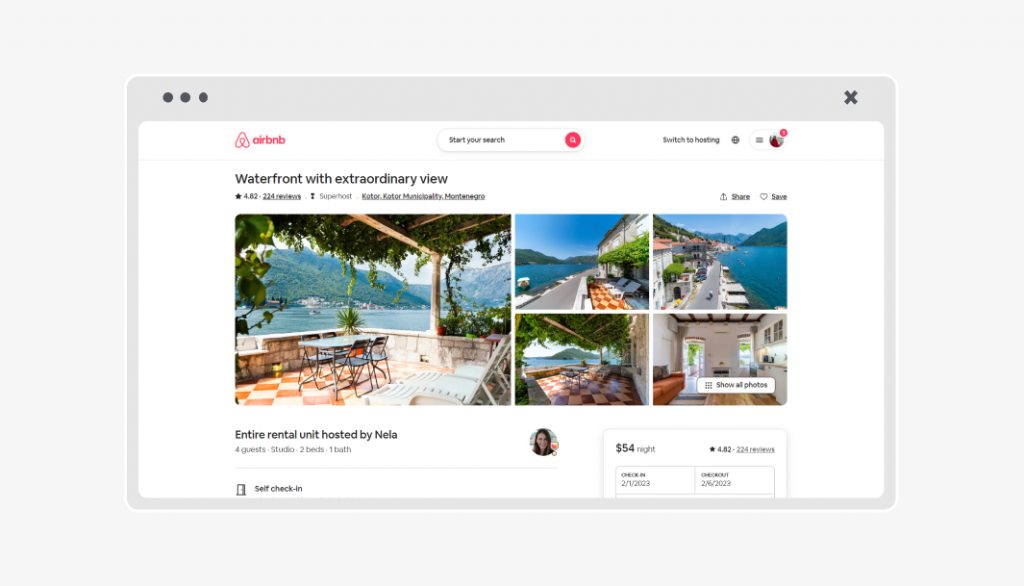 5. Video or virtual tours
A tour inside a specific property tells more about a real estate asset than even the most extensive and high-quality group of photos. If you decide to develop real estate website, take into account video trips, Augmented and Virtual Reality technologies. They may provide users with general but complete information about exterior and interior modeling.
6. Messaging
To find the right property, a buyer must carefully explain his or her requirements, while sellers and real estate brokers must adequately respond to these requests. Thus an inbuilt messaging tool should be easy to use for anyone. It can be a live chat, the fastest way to get feedback, or a direct text, phone, and video messaging system for contacting property owners or agents.
Process of Creating Real Estate Website
Discover the industry
The discovery stage of the product development lifecycle is when you need to research the market. In simple terms, dive into the real estate industry, analyze the competitors, search for their strong and weak sides, and look for the possible niches you can cover with the product.
Research your target audience
The next stage to make a real estate website that visitors truly require is to look for these requirements. As a result, you need to perform user interviews, surveys, and focus groups. It enables us to create a product that directly addresses the consumer's requirements rather than imagining them.
Ensure the necessary inventory
For your real estate website to be outstanding, its structure has to be well planned and designed. So, from the start, list the basic and complicated features you want to include to improve the issue. Then, clarify your purpose for creating a website, your primary goals, and your target audience.
Choose a price range and a development team
When your business and personal goals are clear, specify the pricing range in which you expect website development to fall. With all that in mind, you should receive your money's worth. Meanwhile, you might choose a software development company with whom to collaborate and who know how to make real estate website correctly. When you find the right team, your goals will almost certainly change significantly. A solid collaboration, as well as a desire to engage in communication and exchange ideas, are essential for achieving superior final outcomes.
The structure of your website is taking shape at this stage. A high-performance website requires preparation, so your logo, color scheme, photos, and other user interface components must be arranged systematically and consistently on each page. Because users complete activities in a particular sequence, arrange elements to reflect that order and assist users in accessing your content.
EVNE Developers recommended starting with MVP when developing a real estate website that solves a challenge. It allows you to evaluate the idea faster and cheaper, get feedback from real users, and provide stakeholders and investors with credible proof that your idea works.
Make coding
Decisions taken throughout the planning process must be transparent to all parties involved and reported to them. Completing all preparation processes is the foundation for effective project implementation. Once a technical specification is produced, the hired software developers will select a good tech stack based on the features required.
Launch & test & improve
We're moving close to the finish line in real estate website development, and the next stage is to offer your product to the market. That is the most exciting part for business owners because you see how users interact with your product. Everything depends on the previous and the following work in the project.
Though it looks big, you should go through this cycle during product development. Take note that feedback collecting may occur simultaneously with development. You should not wait for implementation.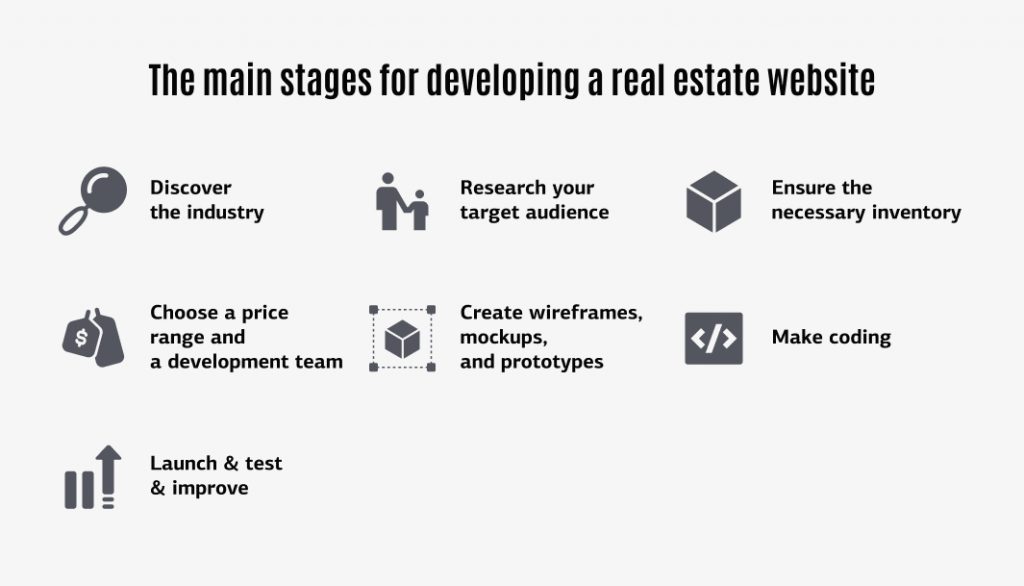 Conclusion
Over the last few years, the real estate industry has shifted online. The majority of homebuyers look for properties on real estate websites. As a result, real estate companies have no choice but to create a real estate website.
We've highlighted the main stages for developing a real estate website that fits users' expectations, so now you know the basics of how to build a real estate website. Aside from that, you should adhere to current trends and integrate key features to differentiate your website from the plethora of other real estate platforms.
Please contact us to learn more about our expertise or if you want to turn your business idea into reality. We guide you from business analysis to project post-launch maintenance.
---