Digital breakthroughs in the FinTech industry have significantly changed the way how people and financial institutions manage money in the last five years.
FinTech companies are on the road to expanding and establishing a solid reputation in the market. Financial technology involves enhancing and automating business processes and services. However, the FinTech industry faces challenges that are like driving engines for improvements and expanding our imagination in new directions.
We analyzed and selected the most important and common FinTech industry challenges. Many businesses struggle to cope with them, but we suggest a solution for each right in this article.
Data Security
Data security is one of the FinTech serious trouble, whether in mobile banking, payment applications, or different financial institutions. When it comes to virtual security, things are not as simple as they may seem. Internet vulnerabilities are significantly more complex and may affect the users' money and personal data in a way not every fintech development company can predict.
Traditional banking systems rely on security guards, CCTVs, vaults, and massive bulletproof doors to keep their data safe and secure. However, hackers continue to breach these systems to obtain personal and financial information. Financial businesses are vulnerable to data breaches as cyberattacks become more sophisticated, and establishing complete security in the digital world is difficult.
Solution
With the assistance of a FinTech solution development business, you may create a high-level security solution. To increase its security, the product may have the following features:
Two-factor authorization
Biometric identification
Behavior analysis
Data encryption and obfuscation
Real-time notifications and alerts
AI security analytics
Changing the routing of data in the network
PETs introduction
Application of Data Protection by Design and by Default principles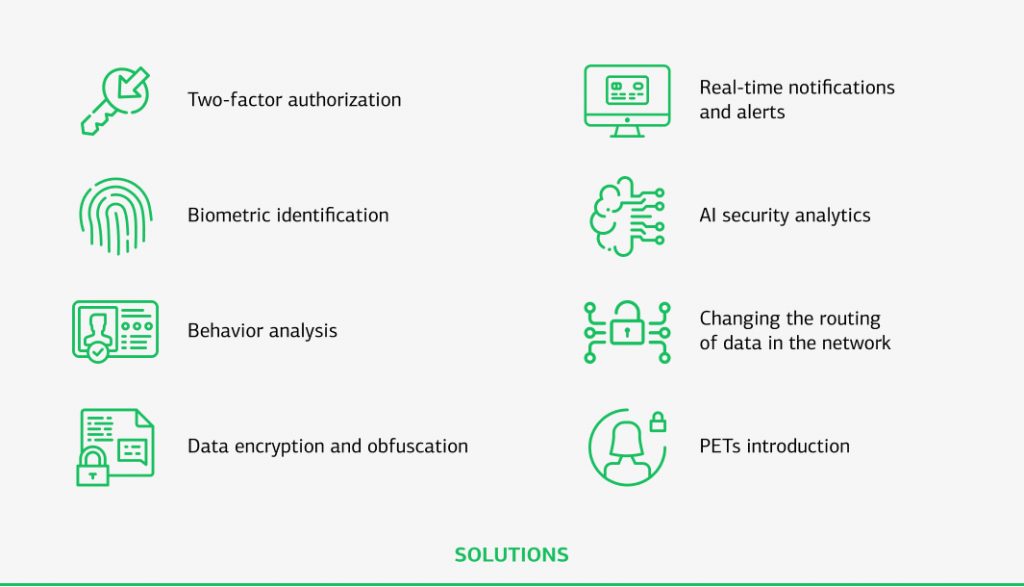 Compliance with Government Regulations
Finance is one of the most heavily regulated industries. Even if you employ standard FinTech software that does not use blockchain and other critical technologies, there will always be government interference. Besides this, Google keeps tracking "your money or your life" products. If there are complaints about such a business, it is removed from the search or the application from the store. Although Google is not the government, most target countries use it to search, so a lot of digital distribution is in their hands.
Financial services organizations must adhere to various rules and regulations to ensure the safety of sensitive information exchanged. Compliance is a significant challenge for FinTech organizations since it involves deploying extensive security measures to ensure no gaps are left open for hackers to exploit. Furthermore, while being compliant, the performance of applications and software must not be impacted. Some restrictions apply to all financial institutions, while others differ based on the specific field in which the organization operates, such as insurance, lending/borrowing, financial advising, and so on. Financial institutions that fail to comply will face severe penalties.
Solution
Check for legal compliance before developing an application or using custom software. Furthermore, if necessary, you may employ a legal consultant to walk you through the essential basics and policies. Before entering the market, ensure that your legal department is up to date on the most recent government regulations in target distribution countries with consideration of privacy data requirements so that you may immediately modify them.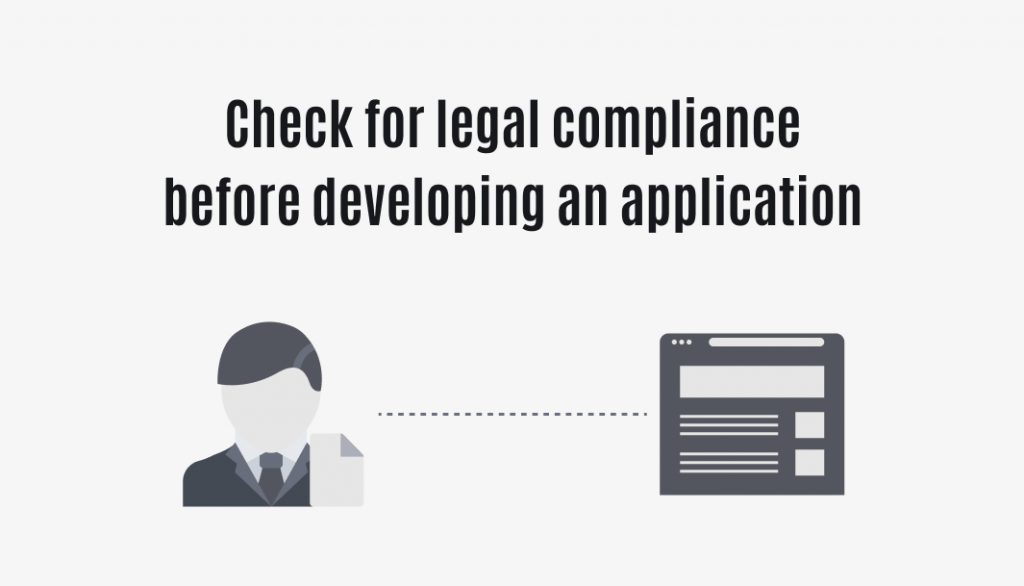 Lack of Mobile and Tech Expertise
Some financial organizations or banks in the FinTech industry lack appropriate or accessible mobile banking services. However, banks attempt to duplicate websites, but not so many would prefer a mobile application in this digital age. Most users need a simple and straightforward method of operation, like apps. With them, everything, including checking balances, transferring money, sending fast payments, creating accounts, and investing, can be done on the go. Apps don't require some technical knowledge to use. One survey found that 76% of Americans bank through a mobile app.
But to create a user-friendly banking app, you need mobile development experts. A lack of competence in FinTech mobile app development services results in uncomfortable apps that do not fully utilize mobile devices. Apps may not benefit from NFC chips, geolocation capabilities, fingerprint unlocking, and other features, for example. A FinTech bank may provide incredible user experiences using these features and technology.
Solution
To outsource the FinTech development process, look for an experienced technology partner. Outsourcing allows you to recruit qualified professionals who can begin working on your solution right away and overcome challenges in FinTech. An external team of professionals can also help you save money on employee recruitment and training.
Besides, to provide customers with FinTech app development services, the mobile device must have the following features that are important for users:
Visualization of data.
Biometric sign-in
Voice-assisted banking
User-first navigation
Personalized UI/UX
Frictionless form design
Data visualization
API integrations
QR-code for payments
NFC chips in stores
Automatic scanning of a credit card number using a lense
Two-factor authentication with a fingerprint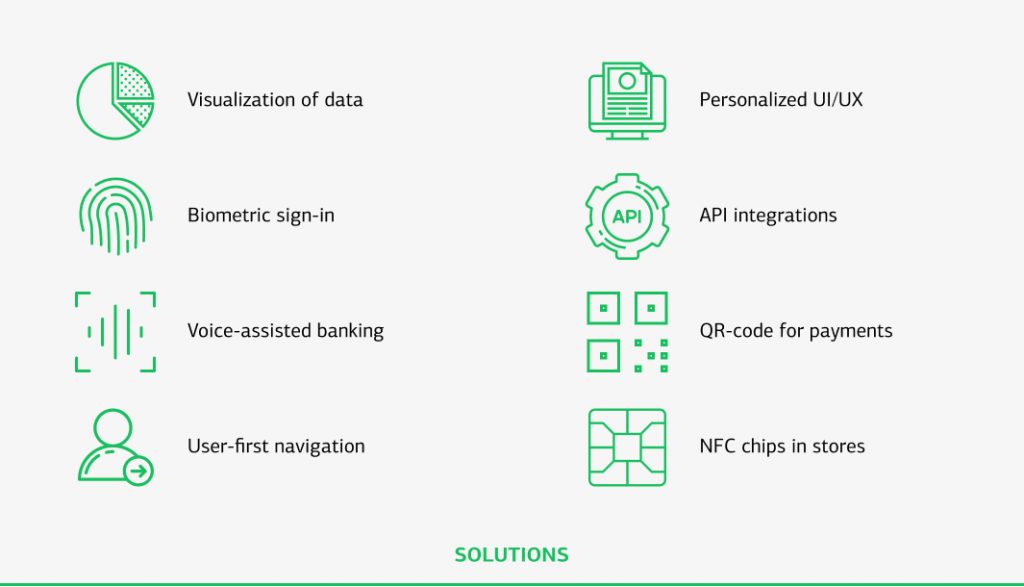 This may be accomplished by fully integrating with device hardware.
Big Data and AI Integration
According to Accenture, 82% of US bankers and 79% of worldwide bankers believe AI will transform how banks gather data and engage with consumers. Big data and artificial intelligence have affected numerous businesses. Using big data, organizations may acquire personal information about consumers, from socioeconomic status to financial behavior, habits, and in-app activity.
This data is essential for banks, especially regarding credit ratings and other high-risk banking services. AI automates the process of detecting fraud, doing risk analysis, and successfully managing transactions using big data. However, companies face several FinTech challenges in using this technology. They need knowledge and ongoing upkeep.
Integrating new technology into your existing system will be difficult if you are currently in the banking industry. Implementing this will not only require technical changes but will also need you and your customers to adapt and provide their consent on a new way of aggregation and use of their private data.
Solution
If you want to integrate AI with large data, machine learning must be used to teach AI. To train your system, you will need a vast amount of data. Most financial applications are incapable of processing and retrieving large amounts of data. As a result, you can solve this issue using a one-shot learning model, which allows you to train your machine learning system on smaller amounts of data.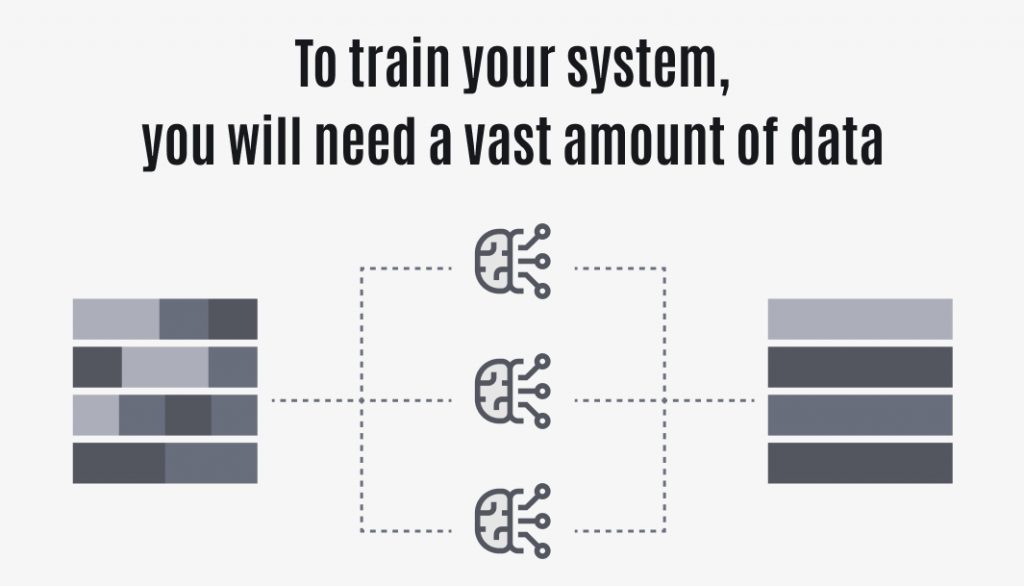 Service Personalization
For a long time, personalized services have been the key and core aspect of banking. In today's context, personalization implies communicating with a user at the right time, on their favorite channel, with a perfect answer to their particular demands.
Furthermore, clients are open to using FinTech as their financial wellness advisor. Some users may feel overwhelmed by a vast range of alternatives, and successful customization provides them with only the focused possibilities they need.
Solution
FinTech companies must have detailed customer insights to solve this challenge. Furthermore, FinTech firms must understand user behaviour and get insights about the user's health, social connections, and events. You may achieve this goal by building trust with your consumers. You must maintain the user's information secure and safe.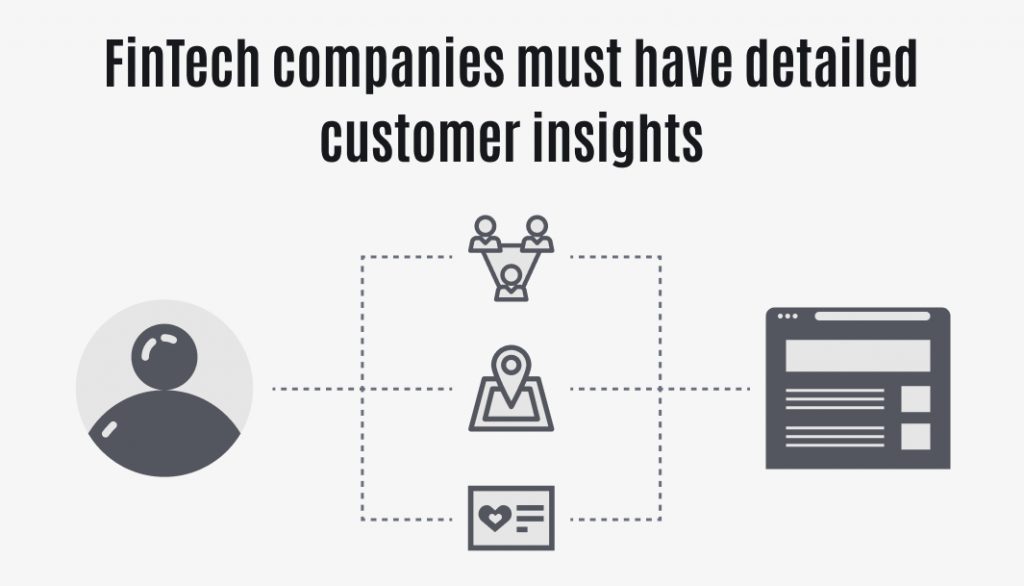 Blockchain Integration
There are numerous FinTech applications that use blockchain technology. Some businesses do not see blockchain as a viable option, while others see it as a means of improving data sharing.
Implementing a blockchain can increase the reliability of the FinTech business because it allows you to examine and monitor all aspects of a transaction and prevent any changes to it. So, in this way you can keep an eye on it at all times. However, incorporating a blockchain is a difficult process for many financial institutions.
Banks and other financial organizations are slow to adopt blockchain technology. FinTech companies, on the other hand, are more inclined to try to challenge the FinTech industry. However, they should consider and analyze the position of traditional banks and governments as they remain skeptical of this new technology.
Solution
When incorporating blockchain technology, be careful to follow all government laws and regulations while implementing this. Furthermore, avoid any regulatory limitations on your mobile services because governments are still hesitant to enable widespread blockchain usage.
Blockchain integration requires specialized knowledge, so to use this technology in your mobile app, you must consult with a professional who understands how to integrate it into your system safely.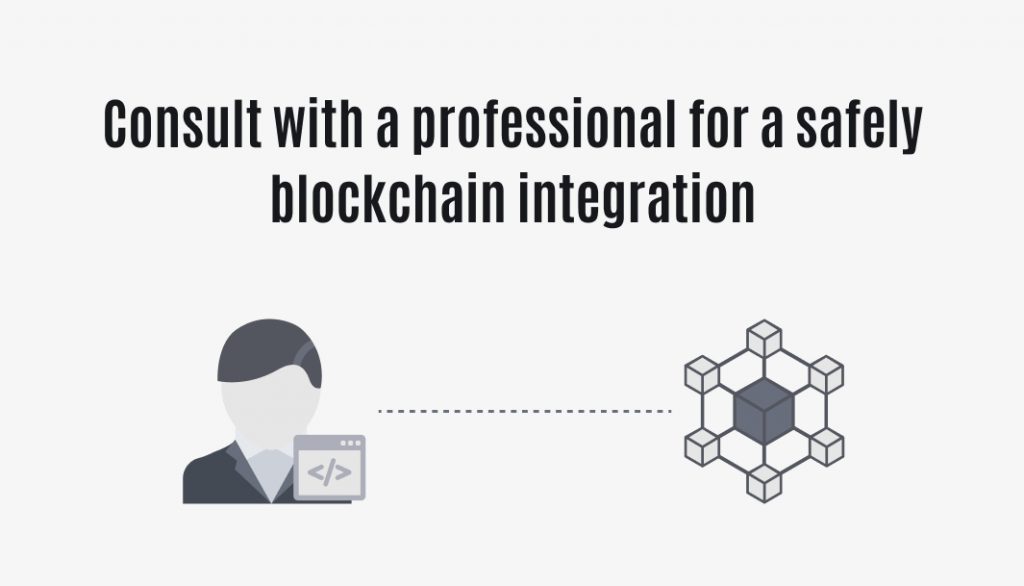 User Retention and User Experience
User retention and user experience are important FinTech industry challenges. On the other hand, a financial system must find a balance between user experience and security. For example, you should provide a mobile app banking solution that is neither difficult to use nor difficult to breach.
However, the more layers of protection you put to your customer journey, the more likely you will lose on customer experience. Customers do not want to leave your app to check an SMS for a confirmation code just to return and fill it in.
Solution
When developing a financial app, you must ensure that the UI/UX design is safe and user-friendly. Requesting login information repeatedly may irritate users. Silent mobile verification handles this for customers, so they have to open your app, sign in, and wait a few seconds (less than 5 to be accurate) before continuing with their transaction.
Performing a SIM switch check before delivering important communications to a consumer is another approach to improve your customer experience. This will assist you in ensuring that account-related information reaches the intended user and eliminate fraud or identity theft actions. It's a complex topic, which requires the whole article to discuss it in more detail. We're planning to add this one to our blog, so don't miss it.
You may also look at what your competitors are doing to provide a consistent user experience and borrow some ideas if they are efficient or contact teams that already know FinTech UX best practices.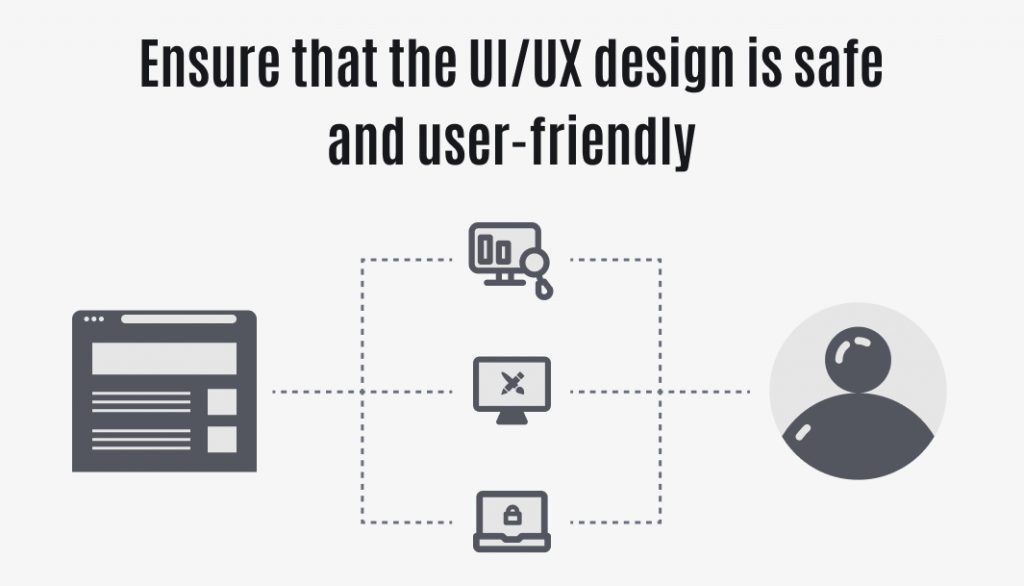 How Can EVNE Developers Help?
As a reputable app and web development company, EVNE Developers has a thorough understanding of the FinTech ecosystem and its various sub-niches. Only high-quality engineers, designers, and developers with relevant expertise make up our team. We have worked on various projects in the financial industry, and we are always monitoring the market for new technological innovations that we can bring to our clients.
EVNE Developers can meet your requirements in a customized and effective manner, whether you want to create FinTech software from scratch, enhance an interesting product with AI or blockchain. Check out our FinTech app and web development services to discover more about how we can help you with your product.
Final Thoughts About Challenges in FinTech
As you can see, there are some challenges for the FinTech business that we must overcome. But consider these digital problems in FinTech industry as a solid answer to becoming a FinTech king.
Regulations and numerous government rules are difficult for FinTech startups to manage. However, in order to disrupt the financial business, we must always keep a balance between new technology and adherence to the established structure.
Traditional banking, on the other hand, finds it difficult to absorb new trends and technology. We believe that mobile technologies will become increasingly more widespread in the financial industry over time since they are impactful and handy for people while also helping institutions in working more effectively.
Contact EVNE Developers if you want to develop a secure and effective financial solution. We can help you develop your ideal software with the needed features and functionalities that provide a smooth user experience.
---